Sergey Karjakin to focus on improving his own chess rather than look at rivals
Chess blog for latest chess news and chess trivia (c) Alexandra Kosteniuk, 2011
Hi everybody,
This one's for all the fans of Sergey Karjakin. He says he would rather look at improving his own chess. In a splendid translation by www.chessintranslation.com you can check out this nice interview given to Yury Vasiliev for the highest-selling Russian sports paper, Sport Express.
He was asked:
Two years ago, when you moved from Simferopol [Ukraine] to Moscow and changed both your citizenship and federation, you were 23rd on the rating list. Now you're fourth in the world. Did you expect to make such quick progress?
That's the result of productive work with my coaches – Yury Rafailovich Dohoyan and Alexander Motylev. In two years I've managed to achieve a lot and now I need to consolidate at the new level.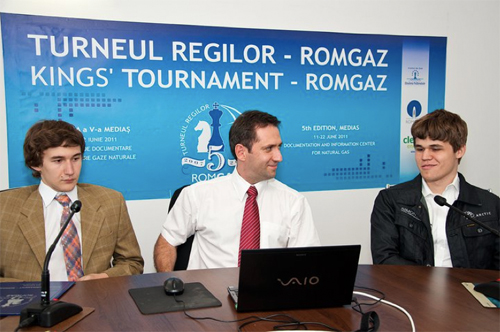 Karjakin and Carlsen at the press conference after their final game in Bazna | Photo: ChessVibes
Your rivalry with Carlsen has now become the focus of particular attention. Do you think you can also compete with him in other events?
Besides Carlsen you've also got Anand, and Aronian, never mind other chess players. Therefore I'm concentrating on trying to improve my own game. As for Magnus, in Bazna I managed to score the same number of points as him, so I think I can compete, but for that I need to do a lot of work.
Read the full article at this link.
From Alexandra Kosteniuk's
www.chessblog.com
Also see her personal blog at
www.chessqueen.com
Labels: chess interview, sergey karjakin