Russian Chess Superfinal R1: Svidler beats Kramnik
Chess blog for latest chess news and chess trivia (c) Alexandra Kosteniuk, 2011
Hello everyone,
The latest chess news from the 64th Russian Chess Championship is that Peter Svidler began with a win in first round over Vladimir Kramnik - who just got back from a super Dortmund Sparkassen performance!
The Russian Superfinal also includes Sergey Karjakin, Alexander Grischuk, Alexander Morozevich, Ian Nepomniachtchi, Alexander Galkin and Artyom Timofeev.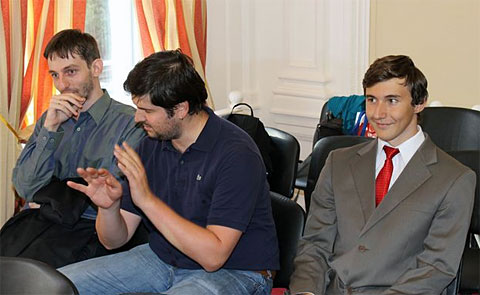 Grischuk, Svidler, and Karjakin during the opening ceremony
A video of the ceremony made by Eugene Potemkin.
More videos and interviews (in Russian) can be found at the
official website
.
And, here are the Round 1 games.