Send your entries for the Winton Capital British Chess Solving Championship 2011-2012
Chess blog for latest chess news and chess trivia (c) Alexandra Kosteniuk, 2011
Hello everyone,
The
English Chess Federation
has put up the first puzzle for their Winton Capital British Chess Solving Championship 2011. Here are all the details:
Winton Capital British Chess Solving Championship 2011-2012
organised by the British Chess Problem Society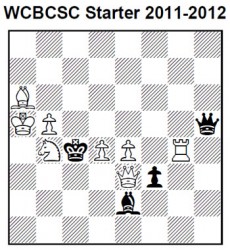 ENTRY
Enter by solving the chess problem above (the starter problem). White, playing up the board, is to play and force mate in two moves against any black defence. The entry fee is £3.00 and the competition is open to British residents only. Competitors need only send White's first move, known as the key-move. Postal entries should be sent to -
Paul Valois, 14 Newton Park Drive, LEEDS, LS7 4HH
They should be accompanied by a cheque or postal order for £3.00, made payable to British Chess Problem Society. SAEs are no longer required in this starter round. Please provide an email address if you have one. All entries should be postmarked no later than 31st July 2011. Please mention in your entry that you saw the starter problem on the ECF website. After the closing date (and not till then) all competitors will receive the answer to the starter problem and those who get it right will also receive the postal round, which will contain 8 more difficult and varied problems. In addition to this, all competitors, whether successful or not, who are not members of the BCPS will each receive a recent copy of The Problemist, the magazine of the British Chess Problem Society.
In due course, the best competitors from the postal round will be invited to the final (in February 2012 at Oakham School) at which the prize fund will be about £1,000. The ultimate winner of this final will win the right to represent Great Britain at the World Chess Solving Championship in 2012.
Find out more about the BCPS and chess problems, follow the course of the competition and see problems from earlier years at
http://www.bstephen.me.uk
- Brian Stephenson, Controller – Winton Capital British Chess Solving Championship